Unfortunate news for the reigning Olympic Ice Hockey gold medalists as Steven Stamkos announced today that he will not be medically cleared in time to participate in the 2014 Olympic games for Team Canada.
Stamkos broke his leg on Novemeber 11th this season after a collision with the goalpost shattered his tibia, needing a steel rod to be inserted into his shin. It seemed to be a forgone conclusion that he would miss the Olympics but in recent weeks he appeared to be making remarkable progress towards being healthy in time. Many had already considered it a forgone conclusion that he would play in Sochi.
Unfortunately, today Tampa Bay Lightning team doctors ruled arguably the NHL's best pure goal scorer out of NHL action for this weekend. Without any NHL games to test out how his leg was in full competition, Stamkos took the doctors recommendation and withdrew himself from competition in Sochi.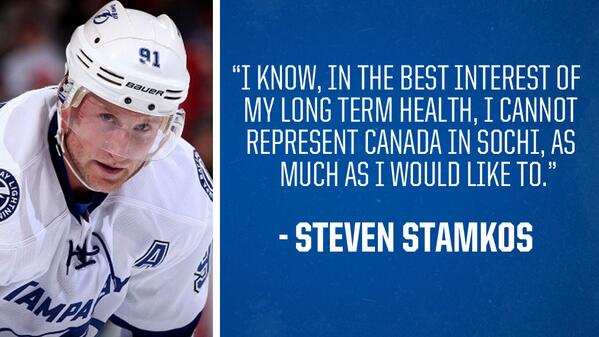 "After reviewing the CT scan this afternoon, Dr. Gutentag made it clear to me and to Steven that the tibia is not completely healed and therefore he should not be participating in game action at any time in the near future," Lightning and Team Canada GM Yzerman said in making the announcement. "Although the doctor was very pleased to this point with the healing process, he explained that the callus surrounding the fracture site is not 100 percent consolidated, and Steven will not be cleared to play in a game until that happens. It was a pretty clear cut decision, no gray areas at all."

"Today is obviously very disappointing for me," Stamkos said. "I honestly believe that we did everything possible in order to have my injured leg ready in time for the Olympics, but I realize you can't force healing. I know, in the best interest of my long term health, I cannot represent Canada in Sochi, as much as I would like to. I would like to thank the training staff for their dedication and hard work and I look forward to returning to the Lightning once cleared by the medical team."
It is unfortunate for Stamkos. He was not a member of the 2010 gold medal team and it seems that his next chance will come in 2018. Its a terrible situation for any athlete.
As for what this means for Team Canada, and 35 million people who collectively crapped their pants a bit this afternoon, there will have to be a replacement announced.
While it is not easy to replace the player with the highest goals-per-game average in the NHL the last 5 seasons, Canada is lucky considering they still have a deep team that boasts the best player in the world, Sidney Crosby, two of the best two-way players in the world, Jonathon Toews and Patrice Bergeron, and a host of other MVP calibre players such as Ryan Getzlaf, John Tavares and Corey Perry.
As far as his potential replacements, it comes down to three players: Claude Giroux of the Philadelphia Flyers (18 goals, 55 points in 57 games), Lightning teammate Martin St. Louis (25 goals, 54 points in 55 games) and Pittsburgh Penguins winger James Neal (18 goals, 42 points in 34 games).
Considering what Stamkos brings in scoring, versatility, speed, right handed shot and faceoffs, I would lean towards Giroux as the replacement. While Giroux is not quite the sniper that Stamkos is, he is arguably the most suited to replace him as he otherwise mirrors Stamkos quite well in the traits listed above.
This is unfortunate news for St. Louis most of all. His only Olympic experience came in the very disappointing 2006 games where Team Canada finished 7th and at age 38 he is unlikely to get another kick at the can in his career.
If you'll excuse me, I'm going to go sacrifice a few farm animals to the Hockey Gods so that nothing else goes wrong.