It's no great secret that David Moyes has struggled to follow in the footsteps of legendary ex-United manager, Sir Alex Ferguson.
In fact, the former Everton coach has had a hellish time since he took the Old Trafford hot-seat in the summer.
United currently have 23 fewer points than they did at this stage last season and have gained fewer points at home than Premier League strugglers Norwich and Hull City.
So what can Moyes do to inspire a turnaround from his under-performing stars?
Here we take a look at 10 changes Moyes has to make in order to save his ailing United career:
Stop Playing Mata Out Of Position

The signing of Juan Mata from Chelsea was seen as one of the potential (what have now become many) turning points in Moyes' career at Old Trafford.
The talented Spaniard surely held the key to unlock the sturdiest of Premier League defences?
Well, not if you play him out of position.
Mata is not, and never will be, a winger. He doesn't have the pace or defensive ability to play out wide and so must play behind the striker. The former Valencia player cannot win a match on his own, but when given decent service and a world-class striker to work with, he can prove to be absolutely lethal.
Have A Word With Marouane Fellaini
Some United fans feel the big-haired Belgian will never make it at Old Trafford, citing his naivety, reported arrogance and poorly timed aggression.
Fellaini played his best football for Everton when he played off a frontman, but with both Juan Mata and Wayne Rooney ahead of him in the pecking order, Fellaini has been forced to play a defensive role in order to accommodate him in the team – a position his temperament won't allow.
Moyes needs to sit down and figure out how best to play Fellaini, because at the moment his inclusion in the first-team borders on the ridiculous.
Drop Tom Cleverley
Manchester United cannot afford to carry any player, least of all when they are struggling to pick up points on a regular basis.
And passengers don't come much more blatant than the England international, who has been ruthlessly grilled by United fans for; not scoring enough goals, his appalling passing accuracy and his complete inability to affect the outcome of a match.
Ferguson clearly felt that Cleverley had the potential, but didn't he think the same of Kleberson, Gabriel Obertan and Bebe?
I rest my case.
Be More Gun-Ho
It's not just the lack of points on the board that has angered United fans, but the lacklustre manner by which Moyes' side have lost games.
The players appear disinterested, and that simply won't cut it for United fans.
These guys grew up watching George Best, Eric Cantona and Paul Scholes – and while a the United dressing room may be devoid of a player who can match the talent of that legendary trio, not trying to is simply inexcusable.
Stop Signing Number 10's
If you have just bought a brand new Ferrari, the last thing you would do is go out and find the latest Lamborghini.
But this kind of rational thinking has clearly been abandoned at Old Trafford.
With Fellaini, Mata, Rooney, Shinji Kagawa, Javier Hernandez and Robin Van Persie all capable of playing the same position, we recommend Moyes doesn't follow through with his interest in German attacking duo Marco Reus and Toni Kroos.
Get The Best Out Of Smalling And Jones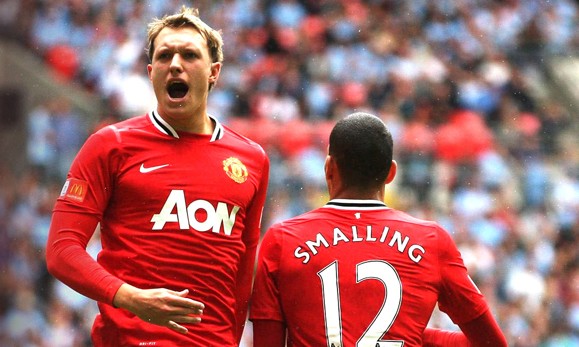 With Nemanja Vidic on his way to Italy and Rio Ferdinand seemingly on his last legs, now is the time to give Chris Smalling and Phil Jones a chance.
The young duo clearly have the talent, so now they need the time and to be man managed accordingly.
Only a decent run of games will help Smalling and Jones and thus will surely strengthen United's poor defensive record.
Stop Forcing The Rooney-RVP Partnership
Robin Van Persie passed to Rooney just once during the 1st leg Champions League defeat to Olympiakos, and that was from the restart after the Greek sides first goal.
The pair, while fantastic individually, seem incapable of establishing an understanding and look incapable of combining with any real fluency.
They were expected to be the next Andy Cole and Dwight Yorke, but the project has failed thus far.
It's time to give someone else an opportunity.
Turn Old Trafford Into A Fortress Again
United's once impenetrable fortress has been breached by Liverpool, Man City, West Brom, Newcastle, Swansea and Tottenham so far this season.
This has resulted in United amassing a worse home record than Premier League struggles Norwich City, something which will not be tolerated.
If Moyes is to succeed he has to get the fans back on side, and what better way to do that than to start picking up crucial points at Old Trafford.
Give Shinji Kagawa A Decent Run
Dortmund coach Jurgen Klopp is desperate to see Kagawa return to the Bundesliga under his stewardship.
But unfortunately United fans wont understand why as they have yet to see the best of the Japanese international
Klopp summed up the midfielders predicament perfectly when he said: "Shinji Kagawa is one of the best players in the world and he now plays 20 minutes at Manchester United – on the left wing! My heart breaks. Really, I have tears in my eyes. He's an offensive midfielder with one of the best noses for goal I ever saw."
And Smile More…
While Ferguson might not have been the happiest bloke in the United dug-out, when his side were trailing he would be screaming orders at his faltering stars.
This is a side of Moyes we are yet to really see, as the ex-Everton gaffer has been spotted slumped in his seat rather than firing up his team.
Appearances mean a lot more at Manchester United than they do at Goodison Park, and the patience of United fans wont continue if Moyes doesn't start fighting his corner.