The 2014 NFL Combine is over after an entertaining week at Lucas Oil Stadium in Indianapolis and there are quite a lot of takeaways from the past several days.
Day 1 of on-field activities saw the offensive line, tight end, and kicking prospects get onto the field and participate in the 40-yard dash and various other drills that tested their athletic abilities. There were several players who helped out their stocks quite a bit and there were those who were a bit of a letdown.
Players first arrived early on last week to take part in interviews, weigh ins, and other evaluations that all go into the process for teams. Each day brought new and eager prospects, ready to compete and show off their skills.
Here, we will take a look back at the results and takeaways from the past week's action:
By Dillon Smith – Lead NFL Writer – @DillonSmithNFL
1. Greg Robinson's 40-yard dash was impressive
Auburn's Greg Robinson was one of the fastest lineman to run the 40, clocking in at an official time of 4.92. For a guy his size (6ft 5in, 332 lbs) this is one of the most impressive times from the entire Combine. Former Michigan standout Taylor Lewan (6ft 7in, 309 lbs) had the best 40-yard dash out of the group of o-lineman at an official time of 4.87.
2. Eric Ebron is the top tight end
This year's group of tight ends carries with it a potential Top 15 pick in former North Carolina Tar Heel Eric Ebron. Standing at 6ft 4in and weighing 250 lbs, Ebron brings all the physical tools needed to be successful at his position. Clocking in at a 4.60 official 40 time, Ebron can catch just about anything thrown his way and would be a valuable asset in any offense.
Another prospect who showed good measurables and skills is former Oregon Duck Colt Lyerla. There are some off-field issues that Lyerla is carrying with him from his past, but in interviews and meetings he showed good poise and seems to be taking all the right steps to putting that behind him.
3. Teddy Bridgewater did not throw
Former Louisville star quarterback Teddy Bridgewater ended up not participating in the 40-yard dash while also opting not to throw at the Combine. He will instead take part fully in his Pro Day.
4. Blake Bortles excelled in every drill
Considered by many as the best option for the Houston Texans at number one overall, former UCF quarterback Blake Bortles had a good day overall in Indianapolis. He fully participated in all drills, leaping to a 9ft 7in broad jump and running an official 4.93 40-yard dash. In passing drills, he also showed good accuracy and placement.
5. Teams impressed talking to Johnny Manziel
Johnny Manziel is reported to have really impressed all the teams that he had interviews. The Raiders have been singled out in these reports, so that is a situation to keep an eye on.
6. Dri Archer was the fastest man there
Dri Archer of Kent State ran the fastest 40-yard dash time out of all 300 prospects with an official time of 4.26. He was .02 shy of tying Chris Johnson's record dash time of 4.24.
7. Sammy Watkins couldn't quite match him
There was much speculation on whether or not former Clemson wide receiver Sammy Watkins would break Johnson's record as well. In preparations for the Combine, Watkins told media members that he was shooting to break the record and while he came close, he couldn't pull through and ran an official time of 4.43.
8. Mike Evans impressed everyone
Former Texas A&M Aggie Mike Evans had a great showing on Sunday, impressing teams and scouts with his fluid running and catching abilities. Another receiver who had a nice outing was Jordan Matthews of Vanderbilt. His 40 time of 4.46 made a positive impact on his overall draft stock.
9. Aaron Donald wowed
Those who hadn't already heard of Pitt's Aaron Donald got a nice dose of him at Lucas Oil. At 6ft 1in and 285 lbs, Donald put up numbers that wowed those in attendance, clocking in an official 40 time of 4.68. For a player his size to run that kind of time is amazing and will bring praise from any of those who were still in doubt of his abilities.
Donald is a force to be reckoned with on the defensive front and has the quickest first step out of all the defensive lineman in this class. Watch some tape on this guy and you will see him blow past o-lineman and make plays in their backfields.
As many people already know about Jadeveon Clowney, I won't get too far into his performance, but his own personal 40 time is so impressive and scary that it can't be ignored. At an official time of 4.53, Clowney outran many running backs, wide receivers, quarterbacks, and secondary players. That is unreal.
10. Clowney could be Atlanta's beast
Clowney also went on record as wanting the Atlanta Falcons to trade up from the number six overall pick to take him. He went on to explain that his closeness to home and familiarity with some of the players on the roster makes for an ideal landing spot.
11. Khalil Mack is into No1 pick thinking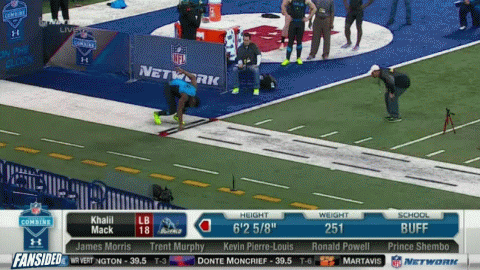 Buffalo's Khalil Mack and UCLA's Anthony Barr both had good showings at the Combine and reaped many praises from scouts and coaches. NFL Network's head Draft analyst Mike Mayock even went so far as to say that he would take Mack with the first overall pick. That's a bold statement with so many different opinions on who deserves the number one spot.
12. Ha Ha Clinton-Dix did his case no harm
The secondary group saw several prospects perform well in workouts and drills on Tuesday.
Former Alabama safety Ha Ha Clinton-Dix ran well and looked smooth in the cone and position group drills.
Former Michigan State Cornerback Darqueze Dennard ran a great 40 time of 4.51, but looked a little tight in the hips in drills. While this is a concern for some people, it shouldn't damage his draft stock as he is a man coverage corner who loves to play close and bump receivers.
13. Justin Gilbert IS the top corner
Oklahoma State's Justin Gilbert is considered by many as the top corner in this class and showed nothing to change that opinion. Running one of the fastest times out of all the groups at 4.37, Gilbert also looked comfortable going through drills.
With the 2014 NFL Combine wrapped up, aside from individual colleges pro days, there is nothing left between now and the Draft. Teams will go back and continue to shorten down their lists of targets until they have a set plan in place. With so much work still to be done, teams will stay busy up to the day of May 8th and, until then, all we can do is speculate.