There is no doubt that Aaron Ramsey is a top player.
Since the start of this season, the Welsh midfielder has been a major part of the reason Arsenal are still in the hunt for the Premier League title.
He's scored 10 goals and assisted seven in all competitions, surpassing star midfield team-mates Mesut Ozil, Santi Cazorla and Tomas Rosicky.
But has he shown enough quality consistently in a Gunners shirt to deserve a new £100,000-per-week five-year contract, as reported today by the Guardian?
I don't think so and here are five reasons to back that view up:
He's only had four months of good form
Ramsey has been Arsene Wenger's stand-out performer in midfield but where was that form in his first five seasons at the club?
Before this term he had never scored over 10 goals.
And to those who say he's been recovering from injury – he played 61 games over the last two campaigns.
He's hardly the model of consistency.
And only signed his current deal in December 2012
Is there really a need to reward his form this season?
He only signed his current £50,000-per-week deal at the end of 2012 and still has two years remaining on that currently.
He's injury prone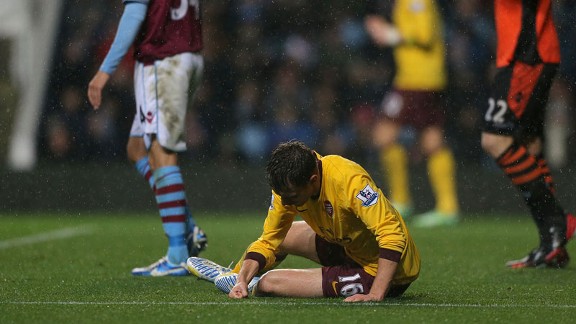 Ramsey has had unbelievable misfortune with career-threatening injuries, but he seems to pick up niggling knocks too which rule him out for weeks and sometimes months at a time.
Take now for instance.
As Arsenal move into arguably the biggest run-in the club has had in recent years, Ramsey is still recovering from a two-month thigh injury.
How long will it take him to get back to the form he had earlier in the season? Can Wenger afford to play players who aren't at their maximum fitness with such a difficult run of games?
They could use the money to buy another recognised world-class midfielder There are no shortage of world-class midfielders who could be looking for a move in the summer.
Arsenal's chief tormentor in this, and last, season's Champions League, Toni Kroos, could be a target.
The Bayern Munich midfielder was heavily linked with a move to Manchester United in January – but maybe he'll prefer to link up with international team-mates Per Mertesacker and Mesut Ozil if he decides to head for England after the World Cup.
Fans aren't united behind him
Are the Arsenal fans 100 per cent behind Ramsey?
We're not so sure.
Take one of Arsenal's most high-profile supporters for example:
How many more Arsenal fans have doubted whether Ramsey is the man to lead their midfield for the next 10 years?
Let us know what you think in our vote below or on Twitter and Facebook.
[polldaddy poll=7850373]