Wrestlemania XXX is almost four weeks away and excitement ISN'T building.
No, recent moves from the WWE have seen stars like Daniel Bryan and CM Punk mistreated while Triple H, Hulk Hogan and Batista do their best to keep the company from moving forward with new talent.
It's the biggest event in wrestling entertainment but is it in danger of being the worst ever.
I think so and here are five reasons to support that view:
5 – Hulk Hogan I don't mean to hate on the guy. I was excited after I found out he was returning, but once he got in the ring I realised that it was a terrible idea from WWE. Hogan is possibly the most cringeworthy person in professional wrestling today. For the short length of time that he was on our screens following his return I was cringing, it's just awful and I can't imagine how embarrassing he will be at Wrestlemania 30. Brother!
4 – John Cena v Bray Wyatt
I'm actually a Cena fan and I'm also a huge fan of Bray Wyatt. So let me explain why I don't like this match card that seems destined to happen.
Over the past few weeks Cena has been saying that if anyone wants to bring the company into the future they have to go through him. Cue Wyatt and elimination chamber where Cena was attacked and a feud began.
All this talk about carrying the company into the future and it looking likely to be Cena v Wyatt is worrying as there's only two outcomes:
1. Wyatt isn't put over, and is possibly buried slightly. This wouldn't be good as Wyatt has the in-ring ability – despite his physical appearance – and incredible mic skills. He could be next big thing, maybe the next Undertaker giving his creepy gimmick? Although I would say Wyatt's in-ring ability is better than that of The Undertaker in his early years. So it would be terrible to bury him – even just slightly – rather than push him and put him over.
2. It's the beginning of the end of Cena. Love him or hate him he has carried the company throughout this era and recent injuries would suggest it's taking its toll on his body. A defeat to Wyatt could speed that process up.
Regardless of the outcome, the match result will be symbolic.
3 – Triple H's ego
The guy's ego needs a zip code, he should never have been as successful as he is, but he married Stephanie McMahon and is now up there at the top in the company. He uses his authority to his advantage as he has done for some time now.
With this corporate douche who has an ego bigger than Pluto there's always a possibility of problems. What looks like happening is he wants to use Daniel Bryan's popularity to make himself relevant in-ring again. There is far better booking options for a wrestler of Bryan's quality, but nope, Triple H would rather waste a potentially good match card on himself.
That's typical of his ego.
2 – Blandy Orton v Bootista (Bothista)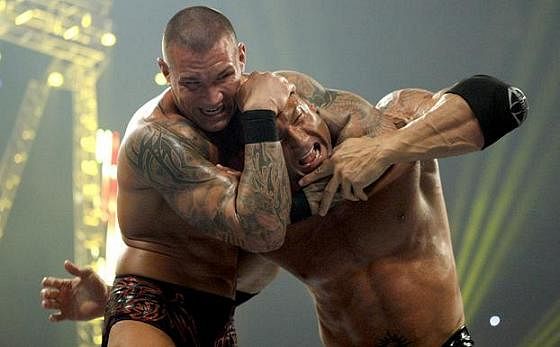 Can anybody think of a worse main event card in Wrestlemania history? Because I can't. We got Blandy Orton, who hasn't been the same guy in six years, and Bootista, who really should have stayed in Hollywood because nobody in WWE seems to like him – not many backstage or in the WWE universe.
Orton's match quality has dipped massively over the last few years and his matches have been carried by his opponent, which at Wrestlemania will be Batista and there is no hope of him carrying a match.
It's not even their fault though. They are booked into a match destined to be a disaster. It's the fault of a certain Triple H and if he's in control of the company, it is going nowhere fast.
1 – CM Punk
The best in the world. So surely the best night of wrestling should include the best wrestler? Nope, even if that wrestler is under contract it doesn't matter because it's CM Punk and he walked out on the company. Reports suggest he was upset at his Wrestlemania booking – my guess is that the rumours were right and he was to fight Triple H and wasn't prepared to lose to the company bigwig.
But due to Punk walking out, the WWE changed that card and now Bryan has his place.
Even if Punk does return, who would he face? Not many quality opponents remain to really make the most of the best in the world's abilities.