Gareth Barry can polarise opinion.
While a Manchester City player, he appeared to stand out as a weak link in a hugely talented, dynamic team.
In four seasons at the Etihad, the 33-year-old scored just eight goals – hardly the form of a top centre midfielder in one of the world's best leagues.
His appearances for England did nothing for his reputation as fans bemoaned his lack of pace and inability to affect the game going forward.
Those unsure of the criticism need to look only at the way Mesut Ozil roasted him for pace as Germany scored their fourth in a 4-1 win over England in the 2010 World Cup.
But this season things are a bit different.
Away from the constant pressure of playing for title-chasing City, the midfielder is thriving on-loan at Everton.
And with the 2014 World Cup just two months away, we think Barry deserves to be on the plane to Brazil:
1. He's an ever-present in an Everton team heading for the Champions League
Barry has made 30 appearances in all competitions for Roberto Martinez's men. Only Tim Howard, Seamus Coleman, Sylvian Distin and Phil Jagielka have appeared more than the midfielder.
2. He's one of England's best passers this season
Among all the English midfielders who have made over 30 appearances this season, Barry has the second-highest pass success rate (86.5%). Jordan Henderson leads the way (86.8%).
3. Martinez believes he's good enough for England
https://www.youtube.com/watch?v=lcP2WUrhajs
It was the Everton boss who persuaded Barry to leave the comfortable surroundings of Manchester to join his Goodison Park revolution. And he's adamant Barry is a top player.
He said: "He's one of the most consistent footballers you'll see, his know how and experience is key. He's a leader for us because of his standards and I still think there's a lot more to come from him this season.
"England as a national team are very fortunate to have that option. Gareth never misses training, never stops working hard, and his tactical awareness allows him always to be in the right place and right time."
4. Who else do England have to call on?
Steven Gerrard and Henderson both have their places on the plane assured. But who else?
Doubts remain over Jack Wilshere's fitness, while Michael Carrick struggles to impress despite playing consistently for Manchester United.
Then you have Tom Cleverley, Frank Lampard and James Milner who could possibly play in one of the holding midfield roles but not one of them has made over 20 starts this season.
Do any of them really deserve it over Barry?
5. Experience matters in big tournaments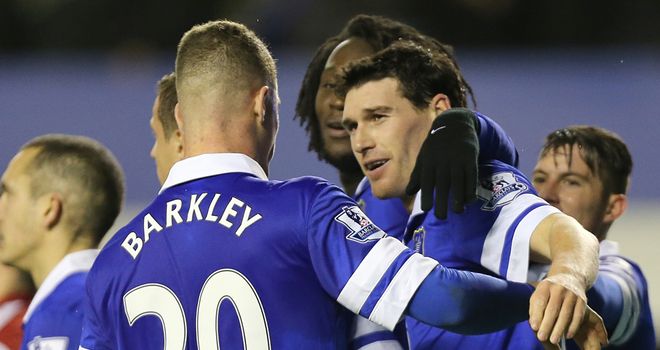 He's got 53 international caps to his name and appeared at England's last World Cup. With a high number of stars available to Roy Hodgson without any experience of a major international tournament – namely Everton team-mate Ross Barkley who could play a key role – players like Barry, Gerrard, Wayne Rooney and Joe Hart will need to play a big part in the squad.
Do you think Barry deserves a seat on the plane to Brazil? Let us know below or on Twitter and Facebook.