The NHL season is over. This is great news. For fans of good teams, its playoff time. For fans of bad teams, yay draft! Prospects! But more importantly, it is awards season! I love awards season and predictions and voting time!
Where else will you find dumb media guys openly admitting they're dumb by casting dumb votes because the second pairing defenceman on your favourite team is easily a Norris contender and the rookie who played 35 games is a total Calder candidate.
So why not speculate on who's a favourite and who I think will win?
(I should note, I'm saying who I think will win, not who I'd pick. Also, read this if you enjoy funny)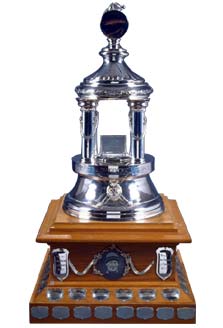 VEZINA – Awarded to the league's top goaltender
Contenders: Semyon Varlamov, Ben Bishop, Tuuka Rask
Other names: Carey Price, Ryan Miller, Jimmy Howard
Mid-season pick: Josh Harding
Its been a weird year for goaltending in the NHL.  Your regular contenders spent most of the year hurt or playing poorly to honestly have their names in the conversation like Quick, Lundqvist, and Rinne. Poor Josh Harding was playing terrific before having his season derailed by medical complications.
Rask is pretty well king of the castle at this point. He's a terrific goaltender and plays on a defensive juggernaut of a team and will be in the Vezina discussion until the Bruins stop being good.
Bishop wass key to the Lightning's comfortable playoff position despite some key injuries to Stamkos and Hedman, as well as the departure of crybaby Martin St. Boohooius St.Louis.
Varlamov has been unbelievable for the Avalanche this season posting save percentage at the top of the league on a team that gives up a whole lot of shots. He'll finish the season with the most total saves on the year and have basically set new personal highs in everything.
Price and Howard will both be up there. Price is terrific, but I just don't know if he'll get the votes. Howard would be higher up if not for his time missed with injury considering Detroit's status as a skating infirmary.
Winner: Tuuka Rask
NORRIS – Awarded to the defencemen who demonstrates throughout the season the greatest all-round ability in the position
Contenders: Ryan Suter, Zdeno Chara, Duncan Keith
Other names: Drew Doughty, Shea Weber, Alex Pietrangelo
Mid-season pick: Ryan Suter
Pietrangelo is the best defencemen on one of the best teams in the league but a lot of people still have no idea who he is. Drew Doughty is in almost the same boat and could quite easily find himself in the top three because of his play at the Olympics sticking in people's minds. Shea Weber has been his usualy monstrous self but Nashville failed to make the playoffs.
Suter is having a terrific season, although it has dropped off since about mid-January or so. Duncan Keith is having another great season and really looks like the player that took home the Norris trophy in 2010.
But, Chara. He's head and shoulders the best defenceman in the NHL. Shut up, I don't care about your argument. There isn't one player that just seems able to bend a game single handedly like Big Z is able to. Pronger used to do this. Neidermayer and Lidstrom would do it too. Chara is going to go down as the second best European defenceman of all time behind Nick Lidstrom. He's just so dominant. Whether voter's agree or not is different, but man is he ever good. I'll stop gushing now.
Winner: Zdeno Chara
JACK ADAMS – Awarded to the NHL coach adjudged to have contributed the most to his team's success
Or, as the foolish voters seem to define it, coach who made his bad team good because of voodoo coaching magic and ruined my pre-season predictions
Contenders: Jon Cooper, Patrick Roy, Mike Babcock
Other names: Todd McLellan, Claude Julien, Ken Hitchcock
Mid-season pick: Jon Cooper
Cooper has done a great job with Tampa considering their injuries and other issues and is in 2nd place in their division. Patrick Roy has the Avalanche from dead last in 2013, to top of the Central division in 2014, and has received rave reviews from his players, although the team is outperforming itself by all fancy stat measures which actually rank them as a bad team. (I'm calling it right now though, without major personnel changes on defence this team misses the playoffs next year)
Babcock has done an excellent job with his team that has pretty well spent the entire season without a healthy lineup. Just one of his top 6 players from the start of the season finishing the season with more than 55 games played. Oh, and he's also had nine different rookies debut this season. That is insane.
McLellan, Julien and Hitchcock will all have their names thrown around due to their status as the head coaches of top teams.
Winner: Mike Babcock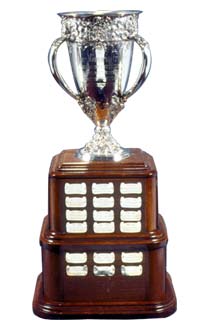 CALDER – Awarded to the league's most outstanding rookie player
Contenders: Ondrej Palat, Nathan MacKinnon, Torey Krug
Other names: Tyler Johnson, Eddie Lack, Olli Maatta, Frederick Andersen
Mid-season pick: Torey Krug
Poor Tomas Hertl. He was having an electric year until a knee injury ruined his Calder, and Olympic, hopes.
MacKinnon played quite well in sheltered minutes for Colorado and has been very consistent all season. He leads rookies in points and goals.
Tyler Johnson and Ondrej Palat have both been excellent and a huge part of Tampa Bay's success. Unfortunately for them, they'll likely split voters considering they are teammates.
Torey Krug has been excellent for Boston and no other rookie defenceman was close to his offensive numbers of 14g, 24a on the season.
Time has offered clarity on this pick. While Olli Maatta has been terrific as an 18yr old, he's still behind Krug. Eddie Lack has also done far more than anyone could have asked in net for Vancouver, but without a playoff berth he won't squeak into the top three. Andersen has been terrific for Anaheim, but he's split time with 4 goalies this season.
MacKinnon has managed to improve on his first half play and the rookie scoring lead likely has him taking him the hardware. Plus he is fast. Really fast.
Winner: Nathan MacKinnon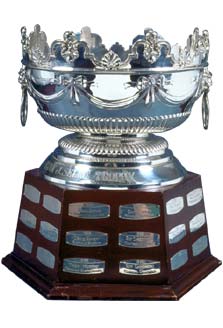 SELKE – Awarded to the forward who best excels in the defensive aspects of the game
Contenders: Patrice Bergeron, David Backes, Anze Kopitar, Jonathon Toews
Mid-season pick: Patrice Bergeron
Those are your four names. They are easily the four best elite defensive forwards in hockey. Some people will cry for the return of the "true" defensive player winning this trophy but time has shown us that those "true" defensive centers were actually kind of not great – usually terrible possession players who were always hemmed in their own zone but they blocked shots and hit?
Toews is excellent. No bones about it. He's a top five forward in the world. But I'm not sure he repeats this season, with Chicago having fallen off the pace a bit down the stretch. Backes is terrific as well, but I think he brings up the rear this year. Anze Kopitar is unheralded for just how excellent his is defensively. Read this.
But Bergeron is the premier two-way forward in the NHL. For some analysis of his impact read this.
To me, he is the favourite. Backes, Toews, and Kopitar will likely split votes in the Western Conference while Bergeron has the East all to himself.
Winner: Patrice Bergeron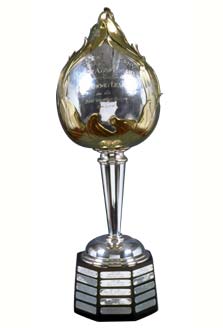 HART – Awarded to the league's most valuable player
Contenders: Sidney Crosby, Ryan Getzlaf
Other names: Claude Giroux, Semyon Varlamov, Tyler Seguin
Mid-season pick: Alexander Ovechkin
Almost an entirely new batch of players at the top this year – that is outside of Sid, who is a perennial favourite.
Giroux was excellent for the Flyers this season. That is, once he finally got going this season, 15 games in, he was remarkable and its no coincidence that the Flyers play matched his.
Varlamov will be up for the Vezina and he'll probably have his name in this conversation. Him setting remarkable career highs in every stat that matters has been pretty well the only reason that the Avalanche made the playoffs.
Ovechkin does what he does. Score a lot of goals. Pretty much the only Capital that can. But sometimes that just isn't enough, whether that's fair or not to him. His torrid scoring pace fell off and his hopes for another Hart Trophy fell off with it.
But it is a two horse race this season. Getzlaf and Crosby.
Ryan Getzlaf has been everything and more that Anaheim has needed this season. He's second in league scoring, and just dominating games. The best player in the Western Conference this season, all respect to teammate Corey Perry and Blackhawk Jonathon Toews.
Crosby is easily the best player in the Eastern Conference. He scores all the points. Always has the puck. And when he doesn't, he is about to have it. Maybe if Giroux started better and Stamkos avoided injury this discussion would be more interesting.
There will be some debate about the "spirit" of the award. Its actually for "the player deemed most valuable to his team" and some people will say that Getzlaf means more than Crosby. Thats dumb. Both have other terrific players backing them, but Sid is far and away the best between them. The Penguins were almost as much of a skating infirmary as the Red wings were.
Sid's the best. He just is.
Winner: Sidney Crosby
So you obviously agree so why not obviously agree in the comment section.