Arsenal have been linked with ex-captain Cesc Fabregas in recent weeks after the Barcelona man became seemingly surplus to requirements at the Camp Nou.
This news has been met with uncertainty by the Emirates faithful.
Some Gunners fans are ready to welcome the midfielder back with open arms, after he left the club to 'return home' in 2011.
Others are more sceptical and with good reason.
Here we look at why Arsene Wenger must steer clear of the talented player he once described as a 'outstanding leader'.
Where Would He Play?
Last season, when Arsene Wenger didn't have the attacking talent which he now possesses, a move to bring back Cesc Fabregas would have made a lot of sense.
But now, following an outstanding season from Aaron Ramsey, the arrival of Mesut Ozil and the breakthrough of young stars like Alex Oxlade-Chamberlain and Serge Gnabry, it seems Fabregas would prove to be a luxury, not an essential acquisition.
Unless Wenger changes his formation there would simply be no place for Fabregas – he does not have the pace to work the wing, meaning the World Cup winner would have to play centrally. Fabregas is undoubtedly one of the best midfielders in the world, but it wasn't in midfield that Arsenal struggled last year.
Improvement Is Needed Elsewhere
If, as reported, we are to believe that Wenger has £100m to play with this summer, he must use these funds carefully to improve Arsenal's squad.
Bacary Sagna is leaving the club on a free transfer and back-up goalkeeper Lukasz Fabianski is also set to depart.
Both of these positions will need filled with credible talent and there is also the small matter of finally purchasing a defensive midfielder to replace the talented but ageing Mikel Arteta.
It's obvious that Olivier Giroud isn't a world-class striker and with Karim Benzema and Edinson Cavani both linked, Wenger should prioritise bringing in a central forward.
It Could Bring Disharmony
Jack Wilshere, Aaron Ramsey, Kieran Gibbs and Theo Walcott all looked up to Fabregas when he was captaining the north London outfit.
But Arsenal's British core is no longer a group of young kids, but an experienced set of internationals.
It was clear last season that something had changed in the Arsenal dressing room, they showed more grit and determination against their lesser rivals.
In my opinion this was because for the first time since 2007 none of Wenger's star names left the club.
Continuity is key and Arsenal must build on what they have, rather than tossing out the blueprint and starting again.
Arsenal Won A Trophy Without Him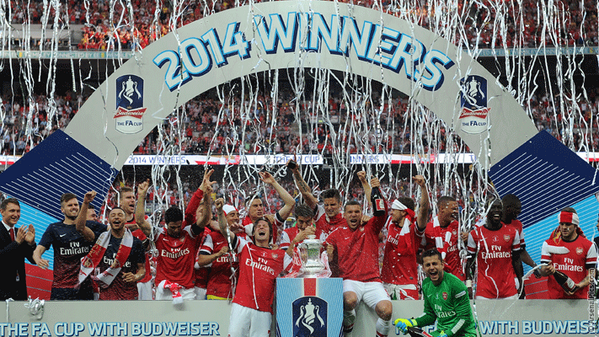 Bare with me on this one.
Fabregas signed for Arsenal as a 16-year-old in 2003, meaning the Spaniard won two trophies during his seven years at the club, The FA Cup in 2005 and The Community Shield in 2004.
However, Arsenal then went on a barren run of winning no silverware for nine long years.
This lasted from 2005 until this season, where they lifted the FA Cup.
Fabregas' departure was a massive blow for Arsenal, but they have now regrouped and are now a stronger side than they ever were with the 27-year-old playmaker in the team.
Arsenal have learned to live without Fabregas and their future looks bright, even if it doesn't involve him.