July 1st marks two big things. The birth of the greatest country on the planet, Canada, and the first day of NHL free agency. This means two things are guaranteed to happen. First, I'll be wearing a flag as a toga, and secondly, that a bunch of hockey players are going to sign contracts for dollar amounts of which their performance can never come to match. But that is why its fun! There are actually a handful of good players available, and a bunch of bad ones. Its exciting to see if you have a smart man as general manager, or a complete idiot.
So who are the best players on the market? How much money will they be Scrooge McDuck-ing in? Where will they go?
#10 – Ales Hemsky RW
Profile: There are people who see terrific offensive talent that was weighed down by the eternal crap-storm that was the Edmonton Oilers during his tenure. Others see an oft-injured winger who isn't "tough enough" to win. The truth falls somewhere in the middle. He does have great hands and play making ability that would compliment a line with a shooting centreman or any powerplay. It is also true that he does get injured quite often and it seems to be almost a chronic shoulder issue, but that usually results from going to the hard areas and taking a pounding. If he stays in the Eastern Conference, I think he could put up a terrific 20 goal, 65 point season on the right team. If he ends up in the West, then ideally it'd be on a team where he can slide into a big lineup like Marion Gaborik did in LA.
Landing spots: I feel that if Tampa Bay misses out on a big player that he could be a good fit there. Same thing in Boston, provided they offer enough term. The Islanders could also be a nice fit. Out west, Dallas to anchor the 2nd line or Anaheim to play along side Ryan Kesler would be good bets.
Expected contract: 19 million over 4 years.
Worth it?: Yes. All you have to do is look at the contracts that players like Paranteau, Briere and Callahan have signed recently.
#9 – Brad Richards, Mikhail Grabovski C
Profile: These two come in for a tie at #9, which I guess makes this list 11 players. But they're both pretty much the same guy and teams that need someone to fill their 2nd line centre spot will be looking at both these guys. Both are decent shooters, good on faceoffs, good passers and able to play sound defence. Richards carries more name value and experience, while Grabovski is a better skater and I think a better overall player. Grabovski is a better possession player and is a "young" 30 years old, while Richards is beginning to lose more than half a step and just turned 34.
Landing spots: The team list for these two is pretty much identical. Chicago, Washington, Dallas, Edmonton, and St.Louis. If I were a betting man I'd expect Chicago for Grabovski and Richards in Dallas, although I could see him taking a big discount to go back to Tampa Bay.
Expected contract: Grabovski, 12 million over 3 years. Richards 7-8 million for two years.
Worth it?: I think Grabovski is, even if he gets paid more than I listed above and I think you could probably get him cheaper. Richards would make me think twice on any contract more than 2 years.
#8 – Anton Stralman RD
Profile: He's a guy that has flown under the radar through most of his career and the Rangers pretty well picked him off the scrap heap. Now he's become a possession monster on the Ranger's blueline and plays the same terrific positional defence that many Finnish and Swedish defenceman do that makes it easy on the longevity of their careers. His offence isn't there in the numbers with only 1 goal and 12 assists last year, but there is an interesting discussion about how he provides offence differently. If you sign him to play with a true #1 defenceman or to anchor your second pair then you're going to be happy.
Landing spots: This is tough. I don't think the Rangers can afford, play wise, to let him go, but I don't know if they can afford to keep him, dollars wise. I think there are some teams out West that need to improve their defence that will be all over him if they miss on others. Teams that are looking to get over the hump: Tampa Bay, Dallas, Anaheim, San Jose and Detroit.
Expected contract: I could see a shade less than 30 million over the next 6 years.
Worth it?: If a competitive team needs a guy to complete their top pair, or build their second then yes. Not often you can find a quality defenceman in free agency.
#7 – Matt Niskanen RD
Profile: He's much the same player to me as Anton Stralman, but he got to pass the puck to two offensive tidal waves in Evgeni Malkin and Sidney Crosby. He's a steady player with decent offence, but 15 of his points (46 total) came on the powerplay last year with the best powerplay team in the league. That doesn't inspire me with confidence he can repeat it, nor do his underlying numbers which have the smell of unsustainable, mainly his PDO of 103 coming back down to earth around 100. I think he's a perfectly fine #3 defenceman on a good team, but I don't think he's got it in him to be much more. He's proven in his career to be a good possession player while a guy that doesn't provide offence, then exploded in the year where he can get paid.
Landing spots: Minnesota. Dallas. Anaheim. Carolina. Tampa Bay. Vancouver. New Jersey. Washington. New York Islanders. San Jose. Pretty well any team looking for an upgrade on defence that wants to contend soon.
Expected contract: I won't be shocked to see a 7 year deal for 36 million with his name on it.
Worth it?: At that dollar figure? Not at all. He'll be paid like an elite defenceman and I don't even think he's in the top 60 defenders in the league. Its not that he's not good, its that he's not THAT good.
#6 – Matt Moulson LW
Profile: He's the model of consistency. He just goes about his game of scoring 20+ goals and getting 50+ points. While he's now approaching the wrong side of 30, he doesn't appear to really be slowing down. With not even 400 career games played it leaves him with a lot of tread on his tires still. Another "young" 30 year old. His lower point totals last year can be attributed to being traded 3 times over the season from a bad team, to an awful team, to an okay team. Wherever he goes, you can expect him to slot in on one of the top 2 lines and provide consistent offence for the foreseeable future.
Landing spots: This gets tough. I don't think he will be many teams first priority with big fish like Iginla and Vanek available. I could see Anaheim, Dallas, Washington, the New York Islanders, and Minnesota wanting him with teams like Boston and Pittsburgh kicking tires.
Expected contract: ~24 million for 6 years.
Worth it?: If he's rounding out your top 6, yes. If you're bringing him in to build it, I'm not sure you're getting your moneys worth.
#5 – Dan Boyle RD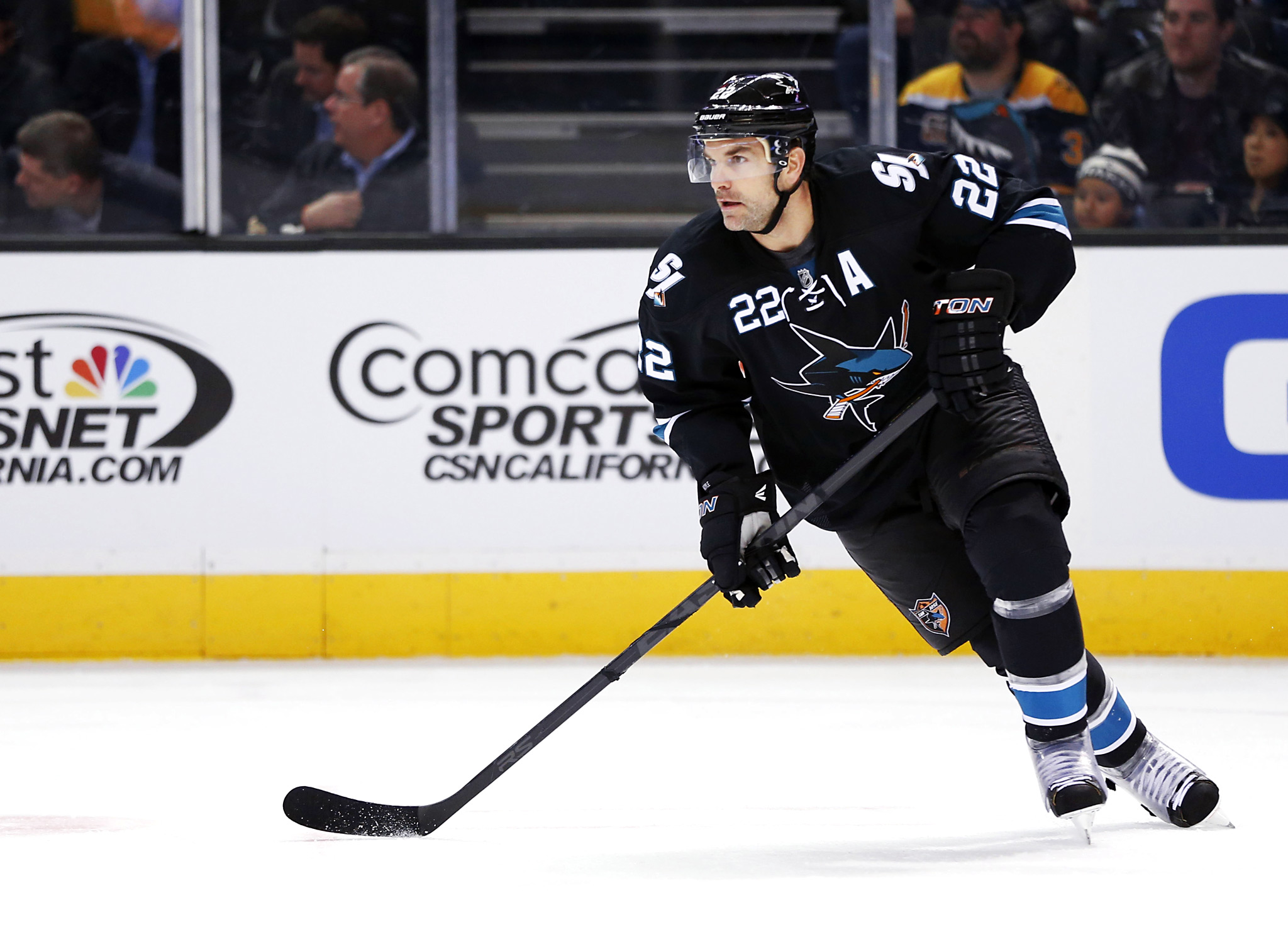 Profile: Even at age 38, he's still a terrific offensive defenceman and brings a right handed shot to a team. Thats a rare combination and is why a player like Niskanen will be swimming in cash this summer. Probably the best part of the package the Boyle brings is that he can be a one-man breakout machine. He can make a great pass or carry the puck through the neutral zone and make a play. That is a rare skill set that will get him paid. He's only looking to go to a contender for a chance at one more championship though which limits his options.
Landing spots: Hard to say. I would love to say Boston, but they're cap space isn't existent. Tampa Bay could be a good fit. As could Anaheim, Minnesota and Dallas. I would assume Vancouver will offer him a deal but I don't know if he takes it.
Expected contract: 12 million over 2 years.
Worth it?: If its a team looking to go over the top like Tampa or Anaheim, you bet. For a more middling team, I would say no.
#4 – Thomas Vanek LW
Profile: He's the best option for a long term scoring winger available in free agency. He can be invisible all game, and then make one or two great plays that wow you. He fits the mold of a game breaker perfectly. He had a pretty good season relatively speaking this year, but tanked in the playoffs. He has all the tools to be a top line winger and provide a team with 65-75 valuable points, but can he be relied on? Or is he a better fit as 2nd fiddle? That's the rub. He's 30 and probably only has a couple years of top production left. Very interesting player as he has as much going for him as he has going against him.
Landing spots: Everyone is pointing to Minnesota, but I'm not convinced. They need a better defence more than another expensive forward. I think Anaheim or Tampa Bay could be fits. Wouldn't be surprised if Nashville or St.Louis throw the bank at him either.
Expected contract: He'll scratch right around 49 million over 7 years. With so many teams that need a top line scorer, he holds all the cards.
Worth it?: I don't know. If he's making closer to 6 million and lines up with Ryan Kesler in Anaheim behind Getzlaf and Perry, or alongside Stamkos in Tampa Bay, yes. Most other circumstances? Unlikely.
#3 – Jarome Iginla RW
Profile: It isn't often that a rugged, goal scoring winger hits the free agent market. Nor the one with Iginla's pedigree of scoring. He's scored 30 goals every single full season since 2000 and didn't look to be slowing down last year. The one big concern with Iginla would be his footspeed going as he ages further as he turns 37 on July 1st. Regardless, if you're looking for a top line winger that plays hard and "plays the right way" then he's your only option. He brings versatility as well in the ability to take faceoffs on his strong side. He'll also be gunning for a championship as the clock continues ticking on his career.
Landing spots: There is a bunch of talk lately that he'll sign in Vancouver, which would blow me away. You can never rule anything out, but… damn. I feel that Anaheim and Tampa are places he could go. If Chicago ends up trading Patrick Sharp then he could be a solid replacement there, but I have a feeling he'll find a way to stick in Boston.
Contract: Reports say he wants 2 years, but I could see him signing a bonus-laden contract for 5.5 million for next season.
Worth it?: Yes. If you're on the cusp, it is hard to argue. Even if you're battling for a wildcard, he can make a difference. I just have a hard time seeing him pick the latter though.
#2 – Christian Ehrhoff LD/RD
Profile: Without a doubt he is the best defenceman available on the market. On most teams he could feasibly step into the role of a #1 and play it well, even if he's more suited to being the other half of a top pair on defence. He brings everything Dan Boyle does, while being a better skater and having a booming shot. He's a big time possession driver who posted terrific numbers (+4.8 CorsiFor relative) on a terrible Buffalo team. He also put up an admirable 33 points this season with a low 98.3 PDO and an abysmal shooting percentage of 3.7%. All of this tells me that on a competitive team he'll boom to 45+ points and monster possession numbers. Some team is going to be very lucky they signed him, especially since he can play both sides.
Landing spots: I can imagine 29 of 30 teams wanting him, but I think he'll pick a contender or a team on the cusp. Anaheim keeps coming up. They've loaded up with Ryan Kesler at forward and just need some defenceman to really be a threat. Minnesota and Tampa could use him as well to help get over the hump. As for non-contenders, I bet Edmonton, Colorado, Vancouver, the Islanders, and Dallas will be racing to deliver Brinks trucks to him, but I'm not convinced he signs with any of them.
Expected contract: I'm thinking 35 million for 5 years.
Worth it?: Almost undoubtedly. He's a top pairing defenceman who's been buried on a god awful Buffalo team.
#1 – Paul Stastny C
Profile: He's the top free agent available. No other player can fit into a #1 role, score 65-70 pts in the right situation, play great two-way hockey, win faceoffs and still have another 3-4 years of elite play in them. His playmaking is good and his shot is better than he gets credit for. He's not the fastest player in the league, but he gets around just fine and is as sound a defensive center as you'll ever see as a free agent. It's not often players like this make it this far without a contract, and with the emphasis put on elite two-way centres leading the way to winning championships (Anze Kopitar, Jonathon Toews, Patrice Bergeron) he's going to make bank.
Landing spots: I'm pretty sure every team in the NHL wants this guy. Maybe only the Kings and Bruins don't. I think he'll settle for a fat cheque mixed with the right amount of chance to win. I keep thinking St. Louis with him, and I think it's almost a lock. I wouldn't be shocked to see an up-and-comer like Long Island or Dallas get him either, but it would be a surprise.
Expected contract: I see 7.5 million for 7 years and not much else. Maybe only Colorado gets him at a lower number.
Worth it?: While its a lot of money, its hard to say no considering just how important "that" player is to elite teams, or any team really.
So those are my best guesses, but the fun is teams coming from nowhere to make a big push and sign one of these guys out of nowhere. Let me know what you think on Twitter @Adam_Pyde or in the comments!