Luis Suarez is the latest Premier League star to swap life in England for the glitz and glamour of Spain's La Liga.
Following in the footsteps of Gareth Bale who moved from Tottenham to Madrid last season, Suarez will be hoping to hit the ground running for Barcelona – when he can actually play for the Catalan giants that is, following his suspension for biting.
On the surface, Suarez's move should keep everyone happy.
Barcelona are signing a fantastic player and Liverpool are set to double the money they spent on the Uruguay forward.
However, Barcelona remains the wrong place for Suarez.
Here we take a look at 10 reasons why the ex-Ajax player has made the wrong decision in joining Luis Enrique's revolution…
He Won't Be The 'Main Man'
The first issue for Suarez, is that during his time at Liverpool, he was the golden boy.
Everything that was positive about Brendan Rodgers' side went through the talented Uruguayan and Suarez was sensational in this role.
Now, it looks like Suarez may be stuck in Lionel Messi's shadow – a position some of the biggest strikers in world football have struggled with.
à la Zlatan Ibrahimovic.
Suarez has never been in this position before, so his form could drop as a result.
The Biting Won't Stop
Now that  the entirety of world football know that Luis Suarez tends to bite other footballers, expect the players of La Liga to put his temperament to the test.
A new club won't solve Suarez's problems, he needs a manager who will put his arm round him, but one who won't stand for his bad behavior either.
Enrique has enough on his plate with revitalizing and re-establishing Barca as a European superpower without having to concentrate on Suarez's afflictions.
Out of the frying pan and into the fire, indeed.
An Ageing Midfield
Essential to Suarez's form last season were Raheem Sterling, Philippe Coutinho and Daniel Sturridge.
All of these young players have plenty of years left in the tank and did most of the running which afforded Suarez the space to create.
Suarez won't be afforded this so readily at the Camp Nou, with Andres Iniesta, Xavi and Sergio Busquets not as willing to make lung bursting runs.
Of course, Suarez will have Neymar and Messi on his side, but neither player plays as selflessly as his old Liverpool team-mates.
Tiki Taka Won't Suit His Game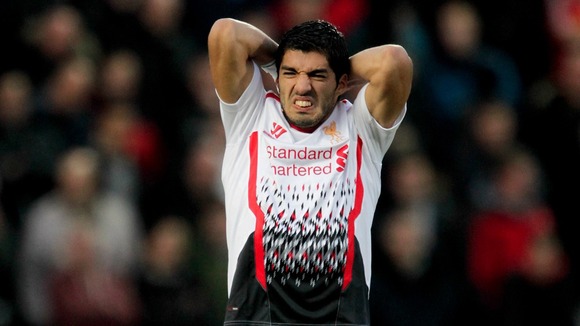 Liverpool played exciting, direct, no-nonsense football last year.
And as a result they came within a whisker of winning the Premier League trophy.
At Barca, Suarez will be expected to fit the system that's already in place.
He will not be able to play the direct role he reveled in last season, instead Suarez will have to rebuild his game around Tiki Taka.
There's not doubt Suarez has the talent to play in this way, but I have serious doubts that he will be as effective as he was.
He Struggles Against The Big 'Uns
Before Gareth Bale scored the crucial winner against Barcelona in the Copa del Rey final, the Spanish press weren't entirely sold on the Welsh international.
In Spain, it doesn't matter if you can score against Levante and Getafe, if you can't score against the big boys – you're a flop.
Suarez scored over 70 goals for Liverpool during his three-year stay, but only a handful came against top four sides.
Performing well in El Classico is essential for the fans of Barcelona and Real Madrid – these are the games that really matter and lackluster showings are remembered for months.