Yesterday was the first day of NHL free agency and we're about 36 hours into the NHL silly season, and boy was there some silly spending. In total, we're currently at $515,300,000 million spent on 87 players. How much of that was spent wisely? How much is going to be as productive as lighting millions of dollars of cash on fire? Who came away looking like a genius and who came away looking like a nincompoop?
A number of teams got better: the Blackhawks with Brad Richards and Kyle Cumiskey, Wild with Thomas Vanek and Blues with Paul Stastny. Some teams also managed to get worse by doing nothing like the Ducks and Sharks. But we'll focus on the more drastic cases.
Loser: Washington Capitals
I'll keep this short.
Matt Niskanen – $40.25 million, 7 years, $5.75 million per year.
Brooks Orpik – $27.5 million, 5 years, $5.5 million per year.
Niskanen is a good player and a #3 on a lot of teams in the NHL, but that is absurd money. Brooks Orpik is a sack of bricks on skates, and that is asburd-insane-crazy-WTF money that is impossible to justify. To see just how out of his mind Brian McLellan, the Capitals GM, is see this:
Asked MacLellan about Orpik's advanced stats. Said he doesn't "value the Corsi," for Orpik thinks it'll go up with a better puck-moving D.

— Alex Prewitt (@alex_prewitt) July 1, 2014
As if Washington has better pucking moving defenceman than Kris Letang and Paul Martin? The team also failed to re-sign Mikhail Grabovski. I feel bad for you, Caps fans. Ovechkin is going to take the blame for your idiot GM, again.
Winner: Pittsburgh Penguins
The Penguins were sunk last year because they had no depth at forward. Well, they've done well to help remedy that already with the pickups of Blake Comeau and Steve Downie who can provide them some solid minutes on their third and fourth lines. They also re-signed Marcel Goc who can play third and fourth line minutes and got him at a discount over last season.
Add to that the draft day trade acquiring Patrick Hornqvist and Nick Spaling, and now all of a sudden the Penguins have some actual depth players again, behind their two superstars in Evgeni Malkin and Sidney Crosby. The forward corps in Pittsburgh is already vastly improved, but add in one more solid depth pickup like David Booth or maybe even Ryan Malone and this team is miles ahead of where it was last season.
But that wasn't the best part of the day. The best part was signing legitimate top pairing defenceman Christian Ehrhoff at a bargain of 4 million dollars. Its a one year deal which is unfortunate, but they've replaced the overrated Matt Niskanen with a superior player at a significantly lesser price. I wrote this about Ehrhoff on Monday:
Without a doubt he is the best defenceman available on the market. On most teams he could feasibly step into the role of a #1 and play it well. He brings everything Dan Boyle does, while being a better skater and having a booming shot. A big time possession driver who posted terrific numbers on a terrible Buffalo team. He also put up an admirable 33 points this season with an abysmal shooting percentage of 3.7%. All of this tells me that on a competitive team he'll boom to 45+ points and monster possession numbers. Some team is going to be very lucky they signed him, especially since he can play both sides.
The Penguins are that lucky team. The rich got richer.
Loser: Vancouver Canucks
I don't think any team in the west is more delusional than the Canucks these days. They're a team still convinced that 2011 can be achieved again. Like right now. Just gotta be tougher or more experienced or something.
So in the latest act of "No we can still win a Cup I swear!", they signed 34 year old goaltender Ryan Miller for 18 million dollars over 3 seasons. In a market where they were the only team interested, they paid 6 million dollars. Just down the highway in Calgary, the better goaltender in Jonas Hiller signed for 4.5 million a season for two years.
Lets to a quick stats comparison between Eddie Lack, Vancouver's starter for much of last year, and Ryan Miller, guy who flamed out horribly behind a defensive juggernaut in St.Louis.
Do you see anything on the Ryan Miller line that is good? I don't. Then when I go back over the years I also see he's been nothing but a league average goaltender except for 2010.
Honestly, its not so much the signing itself that makes the Canucks losers, although it is pretty awful, its what the signing signifies for Canuck fans. This team thinks its going to compete in the slaughterhouse Western Conference, and they're determined to do it now by signing whoever, and likely trading whoever. Scary though considering the Canucks finally look to have some prospects and stand to have a high draft pick next season.
I smell some dumb futures-for-current-crap trades on the horizon for the Canucks.
Winner: New York Islanders
I'm as shocked as you are. After years and years and report on report on report of being turned down by players with no-trade-clauses and free agents willing to take less to play somewhere else, the Isles finally got some talent in free agency.
The signings of Mikhail Grabovksi and Nikolai Kulemin are excellent. The Islanders finally have the depth up front to compete, legitimately, for the playoffs an even win a round. Both players are possession monsters and bring something that every team needs. Grabovski is an all situations centre that can pot 50+ points. Kulemin has the potential for 20 goals and 40 points and is a terrific on-the-boards winger. He's great at winning the ugly battles that help you get out of your end and keep the puck in theirs.
Adding Cory Conacher is a low risk move that could pay off as a solid depth forward. The goaltending has been secured by the signing of Jaroslav Halak. The only thing that needs some work is the defence. If the Islanders can grab one, or even two, of the rumoured defencemen on the trade market such as Jeff Petry, Chris Tanev or Johnny Boychuk, then holy smokes they've got themselves a team in Brooklyn.
Loser: Calgary Flames
I can keep this very short too. They bought out useless Shane O'Brien, who made 2 million dollars, to pay even more useless Derek Engelland $2.9 million dollars a year for the next three. A lot of people thought the contract was bad when it was mistook as $2.9 million over 3 seasons. Then everyone busted their gut laughing when it was clarified that $2.9 million was his annual salary.
Does Brian Burke and Co think they can UFC their way into the playoffs? I don't understand this team.
Winner: Edmonton Oilers
Yup. Just 3 hours north of Calgary, their rivals in Edmonton look to be big winners so far in free agency. The team has added Mark Fayne and Benoit Pouliot on 4 and 5 year contracts at reasonable dollars. This comes after bringing in Teddy Purcell in a pre-free agency trade. All three are savvy moves from general manager Craig MacTavish, who looks to have figured two things. 1) You can't punch your way to winning, and 2) Having the puck > Not having the puck.
All three additions in Edmonton have provided them with solid possession players to really give the team ACTUAL depth on the wings. The top 9 now boasts Taylor Hall, Jordan Eberle, Nail Yakupov, Benoit Pouliot, Teddy Purcell and David Perron. That is terrific and can more or less go toe-to-toe with any 6 wingers in the NHL.
Fayne brings an important right handed shot and a steady game to the Oilers blueline. Its unsure how well his possession numbers will translate from New Jersey, where just about every player is a possession monster, to Edmonton but its worth the risk to add a solid blueliner in your top four. This also pushes Oscars Klefbom and Darnell Nurse further down the depth chart and provides them with more time to develop their games.
Perhaps, the most important thing that these moves signify is that the Oilers have finally learned better than to rush their young players into key roles on the roster before they are ready. If they're able to add a top 9 centre between now and the start of the season, it is unlikely that you'll see Draisatl make the team, which is a good thing.
Loser: Detroit Red Wings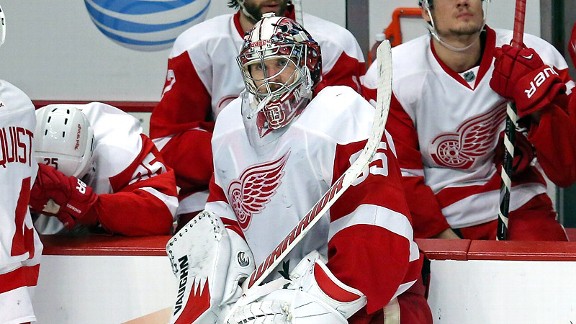 I can keep this one short too. The once prominent and great franchise that was able to get any star player it wanted and on reasonable contracts, was unable to get any player to actually improve the team and instead had to offer 8.5 million over 2 years for Kyle Quincey of all people. Funny how once the greatest defenceman of the last 30 years retired in Nicklas Lidstrom that Detroit became a premier free agent destination no more.
The team is still able to draft and develop well, which will save Ken Holland's job, because if it wasn't for that then this team is royally screwed. They've made no upgrades and their best players are another year into their 30s.
Winner: Dallas Stars Every summer you hear NHL teams complain about how hard it is to add quality centres. You can't find quality centres. There are no possible ways to find quality centres. Well, not in Dallas' case. In two summers they've added budding superstar Tyler Seguin via trade, legitimate 1B centre Jason Spezza via trade, quality third/fourth line centres Shawn Horcoff and Rich Peverly via trade. In two seasons that team has constructed themselves a centre ice of envy.
To top off the acquisition of Spezza, they added slick top6 winger Ales Hemsky on a perfectly reasonable 3 year 12 million dollar contract. So in one day Star's GM Jim Nill constructed a 2nd line, while other teams have spent years trying and failing. Let's take a quick look at the top 9 in Dallas next season.
Benn-Seguin-Nichushkin
Cole-Spezza-Hemsky
Rousell-Eakin-Garbutt
Dang! The Stars are still one top 4 blueliner away from being real good and they'll compete for the same trade targets that the Islanders will, but they're set to compete in the West and that is no easy task.
Loser: Florida Panthers
There is no excuse for the contracts the Panthers gave out. Jussi Jokinen at 4million is a solid deal, and that is where it ends.
Willie Mitchell, age 37, slow and getting slower, 2 years 8.5 million
Shawn Thornton, age 37, bad and getting worse, 2 years 2.4 million
Derek McKenzie, age 33, completely inneffective, 3 years 3.9 million
David Bolland, age 28, injury prone and bad at hockey, 5 years, 27.5 million
Let that last one sink in. For a player with back injuries and a severed Achilles tendon, the Panthers will pay $5.5million for the next 5 seasons. I'm speechless. I'm going to let Travist Yost take it away from here:
Bolland, for just about every portion of the last three years, saw a worse or significantly worse shot-share relative to his teammates. When he gets off of the ice, things vastly improve. And when he steps on, things go to hell.

So, to recap: Bolland adds nothing offensively. Bolland is not a shutdown center or defensive wizard. Bolland cannot outperform peers who are paid a fraction of his salary for the next five seasons in Florida. And there's at least a decent chance his skating — already slow by NHL standards — has been driven into the ground courtesy of a hit…
Tallon deserves to be fired for being bad at his job, and jailed for defacing government property by lighting 42.3 million dollars on fire.
Winner: Tampa Bay Lightning The Lightning were already a good team last season. They looked to be a good team this season before adding any players. Now that they've added a few key pieces? Watch out Boston, this team is coming for your crown.
To start, the Lightning signed top pairing defenceman Anton Stralman for a paltry 4.5 million for 5 seasons. How they got him to agree to such a low dollar figure when buffoons like Brooks Orpik were getting every cent from the Washington Treasury is beyond me. He's going to slide onto the top pairing with Victor Hedman, a #1 defenceman, and they're going to spend 65% of the year pinning opponents in their end. I would have paid Stralman 6 million for that luxury.
The defence corps in Tampa is looking very good heading into next season now. With Hedman and Stralman at the top, followed by Matthew Carle and Jason Garrison on the second pairing and then Andre Sjustr, Radko Gudas and Eric Brewer cleaning up duty on the third pairing. Holy crap what a luxury.
The Lightning also added Brian Boyle to shore up their bottom 6 and help on their penalty kill. Now the forwards in Tampa are stacked with Steven Stamkos, Tyler Johnson, Onrej Palat, Valteri Filpulla, Jonathon Drouin and Alex Killorn in the top 6 with players like Ryan Callahan, Nikita Kucherov, Richard Panik, Brett Connolly and Brian Boyle making up the bulk of their bottom 6. Steve Yzerman is a wizard.
What do you think? Different winners and loser? Let me know on Twitter @Adam_Pyde or in the comments!