The Edmonton Oilers lost last night to the Los Angeles Kings, and now sit at winless on the season. They didn't just lose though, they were embarrassed by the defending Cup champions. There is no shame in losing to a team that good, but it is the manner in which the Oilers went about getting their teeth kicked in that makes it a point for conversation.
1. We'll start things off with the defence in Edmonton.

Prior to last night's contest, it was unveiled that head coach Dallas Eakins healthy scratched Jeff Petry. This was met with a resounding "What in the world?!" by anyone that knows anything because Petry is the Oilers' best defenceman. It isn't even close.
This comes after the Oilers demoted their other best defenceman to the AHL for reasons, I guess.
That left the Oilers, a team that needs everything to go right to win, starting the game against the best team in the NHL last year, with this:
Nurse – Schultz
Nikitin – Fayne
Hunt – Ference
When it could have been this:
Marincin – Petry
Nikitin – Fayne
Ference – Schultz
For absolutely no discernible reason, the Oilers handicapped themselves. Imagine if Vancouver went into Los Angeles and decided to scratch Dan Hamhuis and Kevin Bieksa for no reason. This is almost the same thing, and its the kind of decision that would get a coach fired for actively surrendering a win.
Eakins' hasn't been gifted with an all-star defence, but he hasn't done himself any favours with it either.
It was blatant against Vancouver that Brad Hunt is not capable of playing 5 v 5 in the NHL.
His foot speed doesn't allow for him to prevent zone entries because he has to use a Red Deer sized gap or else he gives up a breakaway.
He's not strong enough or quick enough to win battles in the corners, behind the net or really anywhere along the boards which pins the Oilers in their zone.
And unless it is a perfect breakout with no forecheck, he's unable to make a pass that allows the Oilers to transition in control of the puck.
Scratching Petry in favour of Hunt is not smart. A good team does not scratch a quality 5 v 5 player for a specialist role. Most of the game is played at 5 v 5. Only a few minutes are played on special teams, and Hunt is only useful on the 2nd unit powerplay.
2. The Oilers' either aren't taught a system, or the players ignore it
[youtube https://www.youtube.com/watch?v=w_4nw9hnC9Q&w=420&h=315]
That is a great breakdown of how the Oilers just aren't equipped and/or prepared to deal with good breakouts. I brought up last night with a friend how easily the Oilers get carved by a strong side break out.
To add to the video:
It starts with a pinch by Hunt, which isn't a bad play here in essence. He looks to have the some support to avoid a massive blunder.
But it turns out bad because instead of playing the body or being aggressive, Hunt only 75% commits to the pinch and waves his stuck a whole bunch. That might work in the AHL where the winger is going to just hammer it up the boards blindly 95% of the time, but you're not in the AHL anymore.
Then Joensuu (#6) decides to write a check his feet could never cash in by trying to hold the blueline while the Kings are in a full breakout. This compounds the failed pressure by Hunt on Richards. Yakimov also doesn't do anything besides waste his breath.
This is where Hunt's mistake is compiled again, as you don't make that pinch when you have players like Joensuu and Yakimov as your support against the Kings first line.
Everything compounds even worse once the Kings gain the Oilers zone because Ference (#21) is the lone player vaguely in a defensive position, but since things were so hammy in the neutral zone, he has to back off and leave a huge gap that he has no chance of defending. If he doesn't leave this gap, Kopitar has a partial breakaway.
This is something that comes down to a mix of bad players and bad coaching. A bunch of mistakes were made here by players just not prepared or poised enough for the situation.
Coaching comes in where the Kings didn't catch the Oilers off guard with this line match up, and Eakins didn't immediately get Nikitin and Fayne, or anyone else to be honest, for this play. He could have easily changed his players here, but didn't.
This is where the mix of coaching and players come into play though. If the weak side forward (Yakimov) pressures hard back to Williams then nothing bad really happens. You probably give up the zone, but Ference can play up and Kopitar who justs takes it low and wide and it becomes a regular entry.
All it took was two mistakes, pinch by Hunt and whatever Joensuu tried, and its a Los Angeles goal.
It is pretty brutal all round, and you could excuse Eakins for bad players if this was just a one-off, but it isn't. You can say "he didn't coach that awful coverage" but you're left to wonder "Well, what is he coaching since it happens every game?"
3. So why is Dallas Eakins the coach?

I'm not sure I have the answer to this. Bad players can still know what to do. They just don't do it well.
I was asked if the Oilers system is "no system" and I felt like I had to agree. There were two break outs that happened back to back that demonstrated this quite well, unfortunately I don't have YouTube powers.
When you watch the Kings break out, it is: strong side winger low, center support, weak side winger provides mid ice option and weak side D backs up the middle of the ice in case the play breaks. Almost every single time.
The Oilers do it differently: they tend to send the strong side D towards the strong side wingers spot (decides to pass to winger or center), center is pressing the blueline, weak side winger never crosses into the middle for support and weak side D is picking his nose.
The Oilers seem to have no idea what they're doing to try to exit their zone, or go through the neutral zone, or what to do any time someone not named Taylor Hall has the puck in general.
So again, why is Eakins coach? Well, he coached the Toronto Marlies and got the hype train that comes with it. The Marlies weren't a team that succeeded because of the young Leaf picks, even though that was the popular opinion. Eakins' Marlies teams rode strong defensive forward career AHLers in prominent positions.
But he does not have strong defensive NHL forwards to make his system work, and thus you get all sorts of this.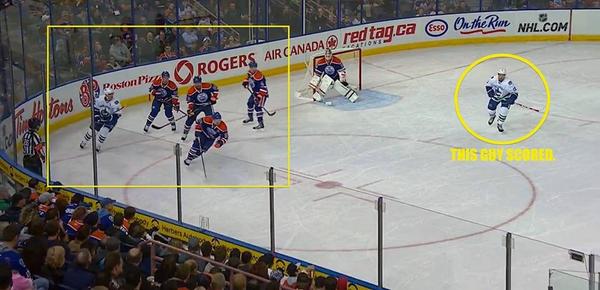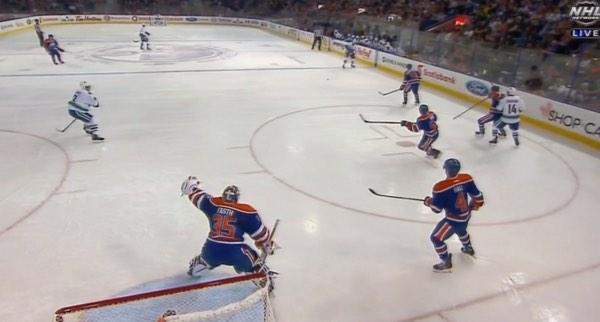 4. So is it the forwards fault?
It is tough to say. A coach has to shape the players into better players, but he can only work with the players he's given.
Craig MacTavish made a huge mistake by going into the season with a center ice of 1. Nugent-Hopkins 2. Arcobello 3. Draisaitl 4. Gordon. Centers serve as the core of any defensive system and having 2 rookies anchoring the middle six is living on a prayer.
This problem only gets worse when Nugent-Hopkins gets injured. Now, most teams are pooched without their top center, but no team is more pooched than Edmonton due to the sheer lack of anything else in the position.
So the next thing to look at is the wingers. Can they insulate the centermen? And the answer is a resounding "No."
Pouliot and Purcell are veteran players and responsible enough defensively. Perron and Hall are both better than they get credit for, but no one is confusing them for Jiri Lehtinen any time soon.
That leaves Yakupov and Eberle.
I feel that people unfairly pick on Yakupov for not caring about defence, where I feel the issue is that he is honestly and wholeheartedly plain confused. You can see that he wants to be in the right defensive position, but he doesn't know where that is. That is the coach's job.
Eberle has managed to get away with being quite possibly the least defensively responsible forward on the Oilers for quite some time now and I'm not sure why.
By the point in his career, there is no way that Eberle doesn't know his defensive positioning. And I think he does, but he prefers to cheat for the occasion that it pays off, but you can't do that in the NHL.
Now this is anecdotal, as I tried some number digging and it was inconclusive, but the number of times you'll see Eberle do a lazy loop or cheat to the inside and only give his defenceman a risky outlet is way more than any other forward on the Oilers.
5. So…?

To pull off a center ice, or lack thereof, like the Oilers' have, you'd need a St. Louis Blues group of top nine wingers. Anything short of that compounds the issues at center. Which compound the issues of the systems play. Which compounds the issues of the defence. Which compounds the decision making of coaching. Which compounds the issues of management.
I guess it is a good thing you can still say that the Oilers are "rebuilding" because if this anywhere resembles the finished product then I'd nuke it from orbit.