Being court-side to introduce live segments from sporting events can be a dangerous game.
Just ask, Paul Cicala who hilariously faceplanted during his Wildcats vs. Buffaloes preview.
And it seems that nobody is safe from a bit of public humiliation, after reporter J.Michael was hilariously hit by a basketball during his piece to camera before the Washington Wizards took on the Indiana Pacers.
By Stuart Hynd – @supers0nic_
It all went down when the reporter was asked how the Wizards would cope with Pacers small forward Paul George, and before he could ready himself to respond, he took a hard hit to the back of the head: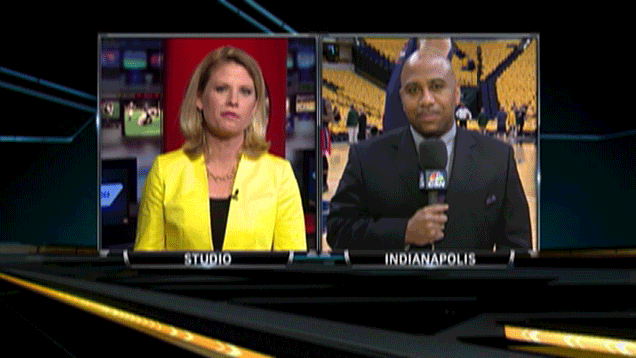 http://www.youtube.com/watch?v=EUdCHXXWvHg
J.Michael's reaction to getting hit made it all the more comical, as the Wizards insider refused to stumble his lines or show any weakness to camera.
After the segment, J.Michael's took to Twitter:
Doing my live talkback on #SportsNetCentral & got slammed in back of head w/a basketball. Damn that stung #WizardsTalk #NBA #WizPacers

— J. Michael (@JMichaelCSN) May 5, 2014
I stayed composed and held in the words running thru my head. just blurted "Ouch that hurt" #WizardsTalk #WizPacers #NBA

— J. Michael (@JMichaelCSN) May 5, 2014
Yeah. @JMichaelCSN took a basketball to the head during his live shot. Video coming. Here's right before impact: pic.twitter.com/tQtnJz5t22

— Daniel Martin (@DMartinCSN) May 5, 2014
I'm getting a headache. Seriously #WizardsTalk #NBA #WizPacers

— J. Michael (@JMichaelCSN) May 5, 2014