You can take the actor out of the movie but you cannot take the movie out of the actor, apparently, as during the Anaheim Ducks thrilling game 5 victory in the Western Conference final legendary movie Mighty Ducks coach Gordon Bombay, aka Emilio Estevez, was wildly cheering the real Ducks on via Twitter.
By: Adam Pyde – @Adam_Pyde
During the Ducks defeat of the Chicago Blackhawks in true, stunning overtime movie fashion to secure a victory 5-4, the actor was littering the internet with pro-Ducks tweets.
If I could get Emilio Estevez to say "Suck it Windy City Windbags!!!" into my phone then I'd never need a new ring tone.
The tenacious tweets are as tenacious as the Ducks play this series as they take a 3-2 series lead with the win and have dominated the majority of play this series.
The even crazier part of this story is that the original movie called this matchup.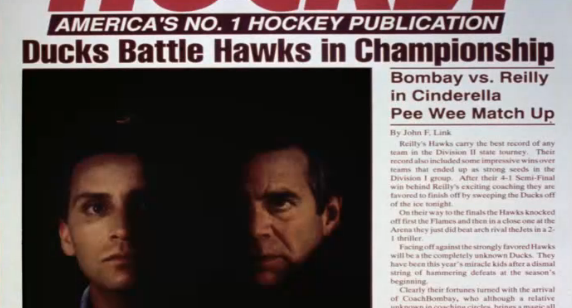 It may have taken 23 years, but they called it!
I hope the Anaheim Ducks bring him and a bunch of the cast out to a game 7, this round if it gets that far, or to a game in the finals, should the team make it. It may become one of the greatest sports moments of all time.
As Coach Bombay said in 1992:
…Have you guys ever seen a flock of ducks flying in perfect formation? It's beautiful. Pretty awesome the way they all stick together. Ducks never say die. Ever seen a duck fight? No way. Why? Because the other animals are afraid. They know that if they mess with one duck, they gotta deal with the whole flock. I'm proud to be a Duck, and I'd be proud to fly with any one of you. So how about it? Who's a Duck?
Stick tap to BroBible